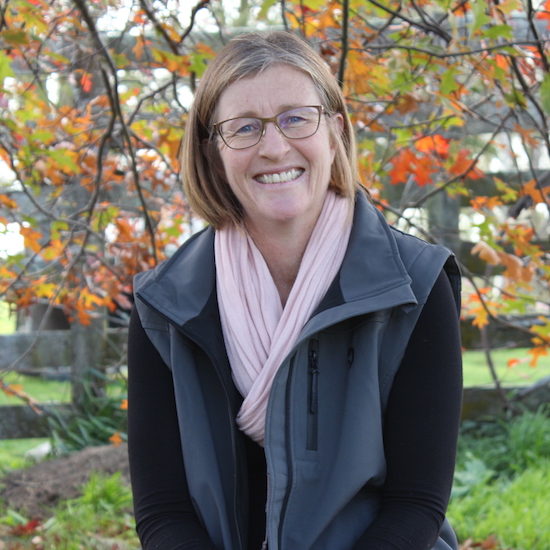 I remember right from an early age I was the gumboot kid in our household and had a hankering for the outdoors. This I guess was one of the reasons I chose horticulture as a career choice.
I completed a Trade Certificate in Horticulture with a rose and fuchsia nursery, before disappearing overseas for my big O.E. On my return I completed my Diploma in Horticulture with the Royal Hort Society and also gained some experience in a local Garden Centre.
I was then fortunate enough to get a job with Harrison's Trees. I was able to build on my previous propagation experience and learnt some wonderful new skills and new ways to approach tasks.
I was also lucky to be given new opportunities; one of these was to Manage the Retail Mail Order Catalogue that Harrison's Trees had established for fruit tree enthusiasts. This whole area really appealed to me and with blind enthusiasm and trust from within Harrison's it evolved to over 4 times its original size.
During my time at Harrison's Trees I decided to launch into a new venture so purchased a house and 1 acre on the Eastern outskirts of Palmerston North. We had hardly unpacked before the tunnel house was up, potting bench installed and my work followed me home and started sprouting up all around the property. This also prompted a decision to start a family and also allowed the development of Edible Garden. I chose not to return to work at Harrison's and it was mutually agreed I would establish Edible Garden and continue the work started at Harrison's but on my own. Edible Garden is a privately owned and operated business.
I grow a large number of the potted lines that we offer but I do not personally grow all of our extensive range of trees. I leave this task to 2 very experienced growers one of which is Harrison's Trees. This then allows me to concentrate on offering you an almost unique service within N.Z. of Mail Order Fruit and Nut Trees.
I have also worked very hard on supplying you with detailed information on our trees that we hope will allow you to make suitable choices. This information has been gleaned from years in the business, knowledge passed on combined with personal growing experiences of my own.
I hope that the website offers you inspiration and encouragement to plan and plant your own patch of paradise and long may the fruits of your labours be harvested.
Staff
I go from Managing Director to Tea Lady in the short space of a few moments. Really I am a one-woman band, I manage the inside administration work, communications, dispatch and also all the potted lines we produce.
During our peak season of July/August I employ someone to help pack and dispatch the trees. But I maintain a very hands-on approach and feel that this affinity with my customers is the lifeblood to my success. The buck starts and stops with me so rest assured any concerns you have will be addressed and prompt action taken.
I also have to mention my very loyal Bunch of 'Helpers' especially my family. To all the helpers I am eternally grateful for their ongoing support and it is wonderful that I can call on them. In the hectic times such as catalogue mail-outs and lining all the trees out in the sawdust bed, a big thank you.
The Future
My vision for the future is to continue to offer quality trees combined with quality service. This website is our latest attempt to improve our service to you and supply you with an overall view of the existing business, increase the information available to you, and to inspire you to create your own edible garden with our extensive range of fruit and nut trees.
We also hope to achieve this by continuing to offer new varieties to the comprehensive range we already have. This does not necessarily mean the latest introductions, although they certainly have their place. But to also offer the 'old' new fruits that have come into our hands on their second time around. A lot of our varieties are not run of the mill but offer something unique to your garden/orchard. They are the old fashioned fruits our grandparents were used to and a joy to our younger generations discovering these wonderful tastes from the past. A lot of these beauties bring with them history, a wonderful taste experience and come from a wide genetic base which also gives us other wonderful attributes such as tolerance to pest and diseases. This makes them ideal to grow under organic and home garden conditions.
I am committed to offering these 'old' varieties in the future and also any worthy new introductions to you via our mail order service.
Our aim with this website is to allow you greater access to information that is not always easy to obtain, to let you know more about ourselves, the nursery and most importantly the wonderful fruit and nut varieties that we offer. We offer you the opportunity to discover the fantastic tastes, smells and beauty of your own edible garden - enjoy the planning and planting.